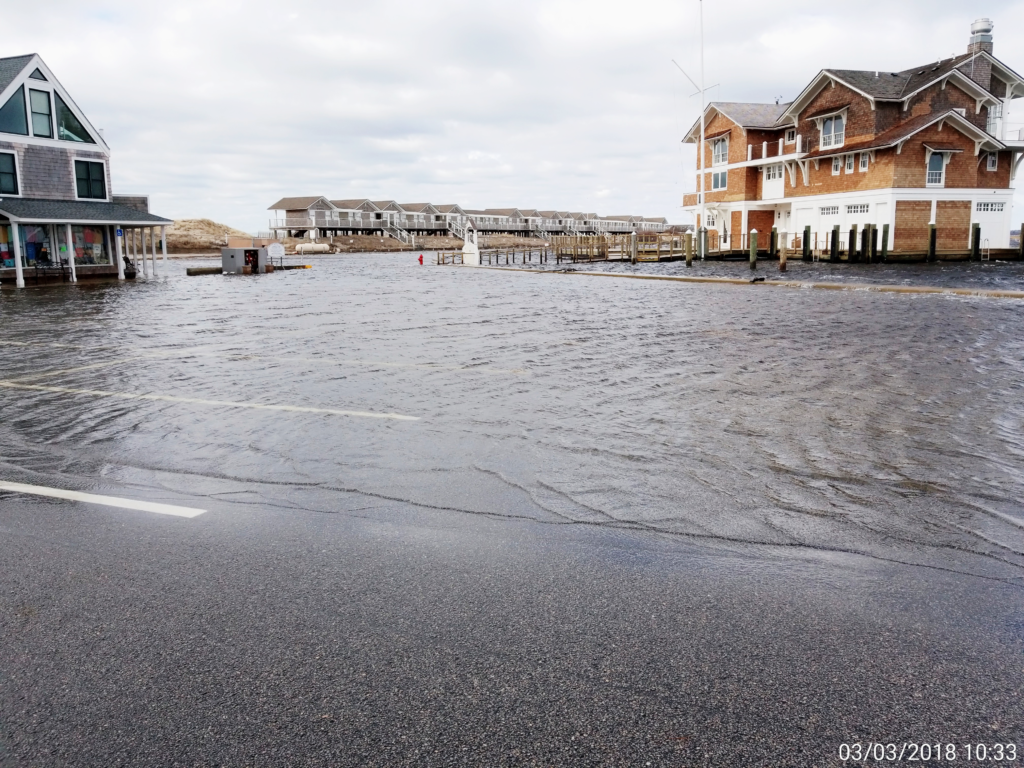 Watch Hill, by nature of its low elevation and proximity to the sea, is extremely vulnerable to inundation from sea level rise and storm surge. Nuisance tides now flood many streets in the community and access to some local destinations such as the Beach Club, Yacht Club, and Beach Cabanas is already difficult. Conditions will only get worse as sea levels rise. Nuisance tides occur often and are not storm-driven. See the impact of a very high tide (1 foot higher than normal) on 16 May 2019. This occurred on a calm night and is not storm-driven. Such high tides block the entrance to Napatree, make access to the beach club and yacht clubs precarious, if not impossible. Impacts from sea level rise are here, and now!
In March 2018 we had a Nor'Easter that brought a storm surge 2 feet above Mean Higher High Water (MHHW). This is what we can expect in 2050 at every high tide. See what it looks like along Fort Road and Napatree.
In the winter of 2019,
The Watch Hill Conservancy hosted a three-day forum for community leaders on the science of sea level rise, tools available to assess risk, and how we might adapt our community to minimize impacts to transportation, property, utilities, and business.
Click here to read an overview of the 2019 program.
The lessons we learned at the Forum are summarized in this list of Outcomes. Be sure to watch the videos of the speakers under the Forum Resources.One outcome of the Forum is a resolution by community leaders to collaborate on developing plans to enhance the resilience of the Watch Hill community.
In 2020,
We re-engaged local leaders to continue the discussion from 2019. The main goals for this year are to review Sea Level Rise and Storm Surge risk in Watch Hill, establish a planning goal, and identify protections we want to achieve.
Now in 2021,
We have formed a subcommittee to discuss the long-term solutions possible for the 3-5' of sea level rise that we will see over the next fifty years or so. In our first session of 2021, we learned about the history and construction of the existing seawall, its remaining functional life, and have also identified weak points as far as flooding problems.
Click here to view presentations and resources from the 2019-2021 sessions.
Lanphear LIVE! Presentations on Sea Level Rise and Storm Surge
David Vallee's- RI's Wild Weather
Bryan Oakley's- Science of Sea Level Rise
Teresa Crean's- Assessing Inundation Risk Around Our Coast
Are You At Risk?
Free Tools on the web, check them out!