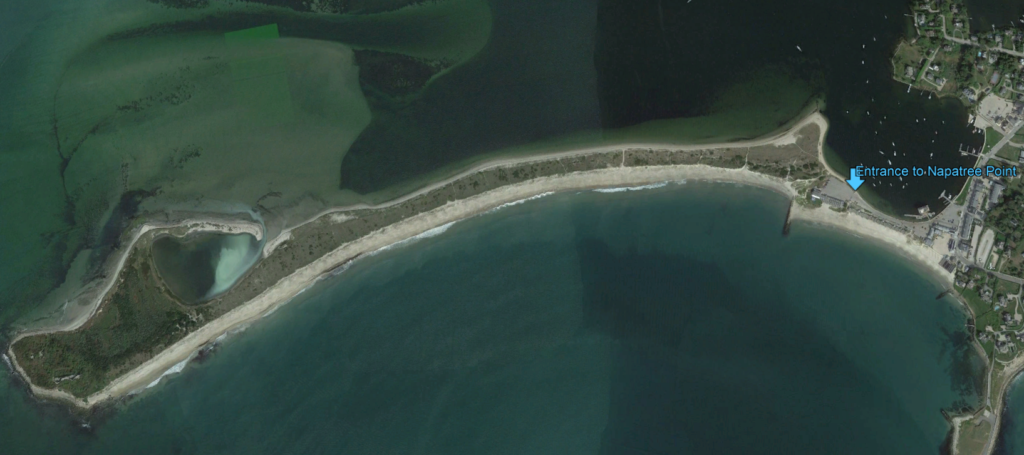 Can I bring my dog?
In accordance with Town of Westerly Ordinance 76-8: Leashed, registered dogs are allowed from the day after Labor Day to May 1 at any time. From May 2 to Labor Day, leashed dogs are allowed from 6:00 PM until 8:00 AM.

Droppings must be picked up and removed from the beach by the individual walking or having control of the dog.

Dogs and people are prohibited from any nesting bird areas demarcated by the U. S. Fish and Wildlife Service or its partners, designees, and agents. Violators may be prosecuted.
What time does Napatree open and is there an entrance fee?
Napatree is open to visitors 24 hours a day with no entrance fee. However, camping, hunting, fires, grills, drones, vehicles (including bicycles), and fireworks are prohibited at all times.
Where can I park?
Napatree Point Conservation Area does not have its own designated parking facilities. Watch Hill Village is a small, popular seaside community with a handful of parking options for visitors. In the height of the summer, these tend to fill quickly.
Are there restrooms at the beach?
There are no restroom facilities in the Napatree Point Conservation Area.
Can I launch my boat at Napatree?
Napatree does not have public boat launch facilities. Any vessel visiting Napatree by water shall not be anchored, moored, or beached in that area of Little Narragansett Bay known as the "Kitchen Area" of Napatree Point. This is the area around the Napatree Lagoon.
Can I go swimming?
Yes, you can but there are no lifeguards on Napatree; you swim at your own risk.